Free Eye Tests In The UK
When it comes to sight tests not all of the UK is equal. Whilst people in England, Wales and Northern Ireland have to rely on falling into one of the NHS' special categories to receive a free eye test, those living in Scotland have no restrictions. The NHS in Scotland provides free sight tests to anyone ordinarily resident in the UK and also to eligible overseas visitors.

Assuming you don't live in Scotland there is still a good chance you can get a free eye test, The NHS provides Free Eye Tests - but not for all, like in Scotland. The NHS has a compressive list of criterion for Free Eye tests and if you fall into one of their groups then you can receive a free eye test. Not only that, but the NHS may also provide a Free Optical Voucher to help with the cost of prescription glasses or contact lenses.
Here's all you need to know to see if you qualify for a Free Eye Test.
Can I get a Free Eye Test?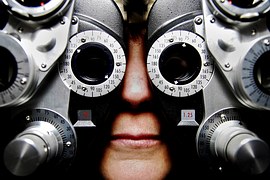 Whether or not you are entitled to a free sight test will depend on your circumstances, criteria such as age, health conditions, financial situation and more, are all taken into consideration by the NHS to decide if someone is entitled to a free eye test. The NHS has quite a long and detailed list of those who are exempt from paying for their eye test. If you fall into one of the following categories then congratulations your eye test is free!


Age Related Free Eye Tests

If you are young, fairly young or used to be young then you are probably entitled to a free eye test, here are the NHS' categories
All children and young people under the age of 16
Students who are 16, 17 or 18 and in full-time education
All people over the age of 60
Health Related Free Eye Tests

If you have one of the following conditions that can affect your eyes then you are entitled to a free eye test
Registered blind or partially sighted
Have been Diagnosed with Diabetes
Have been diagnosed with Glaucoma

You are over 40 years of age and an immediate family member has been diagnosed with Glaucoma i.e Mother, father, brother, sister, daughter or son
Have been advised by an Ophthalmologist you are at risk of developing glaucoma
If you are eligible for an NHS "complex lens voucher" - if your prescription is +10.00 /-10.00 or more or require prism-controlled lenses


Financial Reasons for a Free Eye Test

If you or your partner - including civil partnerships - are receiving certain Government benefits or you are under 20 and dependent on someone receiving these benefits then you are also entitled to a free eye test.

Income support
Income-related Employment and Support Allowance
Income-based Jobseeker's Allowance
Pension Credit Guaranteed Credit
Universal Credit and meet the criteria
Other Reasons For A Free Eye Test

If you are a prisoner or a prisoner on leave
If your name is on a valid Tax Credit Exemption Certificate including Child tax credit, working tax credit with disability element and have income for tax credit purposes of no more than £15,276
If you have a valid NHS HC2
If you have a valid NHS HC2 certificate for full help with health costs
If you have, or are named on a valid NHS HC3 certificate for partial help with health costs - this may entitle you to some costs toward your eye test
Can I get a Free Sight Test at Home?
Some Optometrists offer mobile sight tests, they will come and visit you at home and bring all the necessary equipment, this is also provided free by the NHS if you are covered by any of the criteria above and unable to leave home unaccompanied because of physical or mental illness or disability or have difficulty communicating your eye or healthcare need unassisted. This applies whether you live at home, in a residential or care home or attend a daycare centre
To find out the NHS's full list of those eligible for a free sight test check out the NHS website
How often can I get a Free Eye Test?

Free sight tests are provided by the NHS every two years unless your Optometrist deems it necessary for you to have shorter intervals, i.e. if he or she is monitoring glaucoma or if your prescription is changing rapidly or it your eyesight is deteriorating rapidly, for example due to a progressing cataract or macular degeneration.
I don't fit any of the NHS categories, Can I still get a Free Sight Test?
We can't guarantee it, but very possibly.
Periodically many high street opticians offer free sight tests. Groups such as Specsavers, Boots and Vision Direct all offer free sight tests to promote eye health in their practice or to coincide with quiet periods.
Before heading out for a sight test, it's worth giving your local optical group a ring, or checking their website, to see if they are running a promotion or intend to run one in the near future.
It is illegal for Optometrists to offer a Free sight Test on the condition that you buy a pair of glasses. Optometrists always have to give you a copy of your Prescription directly after the sight test, even if the sight test has been provided Free by the Opticians (or the NHS), so you can, if you want, take your prescription away and buy glasses at another Opticians shop or online.
What is a Free Optical Voucher?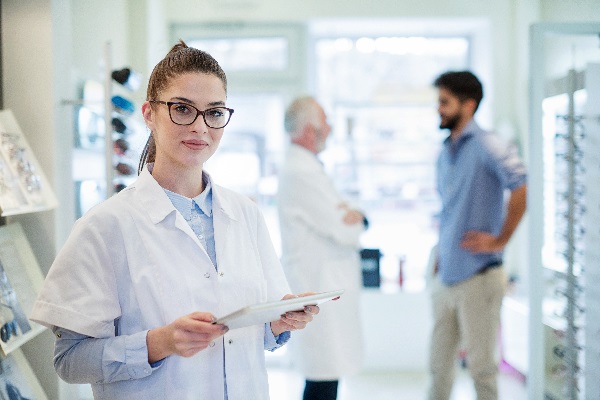 A free optical voucher is a voucher supplied by the NHS if you fall in any of the categories mentioned above, to help cover the cost of glasses or contact lenses. The value of the voucher is determined by your prescription needs and can range from £39.10 to £215.50.
Most people will fall in the lower end of this range The £39.10 is for single vision glasses with prescriptions lower than +6.00 or -6.00. If the power is above this, then the value increases depending on the complexity and strength of your prescription.

To find out more about NHS free optical vouchers check out NHS.uk
Can I get Free Glasses?
Free glasses or part-paid glasses are available on the NHS, if you fall into any of the NHS categories listed above you should be entitled to claim for a free sight test and a free optical voucher.
Can I get Free Contact Lenses?
If you qualify for a free NHS optical voucher you can use it to cover or help cover the cost of glasses or contact lenses. The voucher may not cover the entire cost of contact lenses, but you can put the voucher towards the total cost.
Unfortunately the NHS free optical voucher can not be used to purchase contact lenses online. In addition the voucher cannot be used to cover aftercare appointments or the ongoing costs of contact lens solutions.
Can I get a Free Contact Lens Fitting?

Most optical practices offer free contact lens fitting, where they will measure and fit you for contact lenses, plus provide instructions on insertion and removal, often with up to a week's free supply of contact lenses for you to trial.
We recommend checking that the free trial is still free even if you decide not to proceed with the contact lenses after the trial, as some practices will charge if you don't go ahead with contact lenses.